Online Shopper & Your Garage
See this little icon?



This is your Garage, where you can save up to four different vehicles, you're curious about and compare pricing to see what works best for you.
How do I sign into my Garage?
It's easy! Here's what you will need to do:
1. First, find a New or Used vehicle you would like to learn more about or compare the pricing of. Once you're ready, hit the "Show Payment Options" button below to get started.


2. Enter your information and payment option needs, then scroll to the bottom and hit the "Save and Compare this Payment" Button.


3. Next, you will need to enter your name, and an email OR a phone number to receive your Garage Key. The Garage Key will allow you to access the vehicles saved in your Garage at any time.
4. Once you hit the "Open Garage" button, a key will be sent to your email or phone number (via text), so that you can access your Garage. Once you enter the key, hit "Unlock Garage".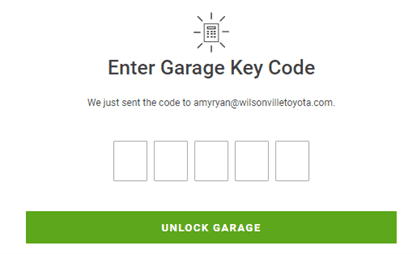 5. Add vehicles to your Garage and compare away! You Garage will even show you how many vehicles are currently sitting in it.


Revisit your vehicle and personalized payment details for future reference or customization on any device. Add additional vehicles to your garage to compare your options and decide on the perfect deal for you.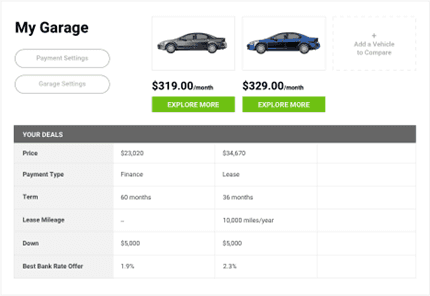 Signing into your Garage and accessing your saved vehicles is a straightforward process. By following a few simple steps, you can conveniently compare pricing and make informed decisions. Begin by selecting a New or Used vehicle of interest and clicking the "Show Payment Options" button. After entering your information and payment preferences, save and compare the payment to proceed. To access your Garage, provide your name and either an email or phone number to receive a Garage Key. Once you receive the key, input it and unlock your Garage. From there, you can add vehicles, compare options, and view personalized payment details at any time. With this user-friendly system, you can easily manage and customize your vehicle choices, empowering you to find the perfect deal.