Mercedes-AMG® GT3 Teams and Drivers Secure Three Overall Race Wins and a Podium Lockout in Fanatec GT World Challenge and GT America Competition at NOLA Motorsports Park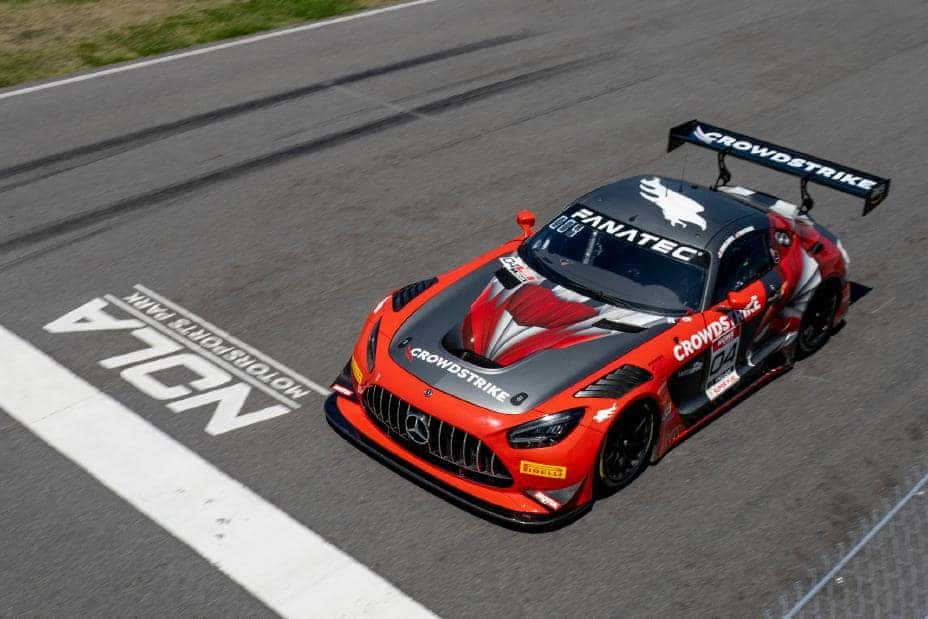 Mercedes-AMG® Motorsport Customer Racing teams and drivers across three racing series delivered another winning performance in SRO Motorsports America Competition at NOLA Motorsports Park this weekend. Three Mercedes-AMG® GT3 teams combined to secure three overall race wins and a podium lockout to highlight a string of additional class wins, podium finishes and a Mercedes-AMG® GT4 runner-up result that was decided in a photo finish.
For the second-straight SRO Motorsports America event, the weekend's overall race winners were the No. 04 CrowdStrike Motorsports with Riley Mercedes-AMG® GT3, co-driven by George Kurtz and Colin Braun, and the No. 101 TKO Motorsports Mercedes-AMG® GT3 of Memo Gidley.
Both teams factored into the most impressive result of the weekend which was a top-three podium lockout in Sunday's second GT America powered by AWS 40-minute sprint race. Gidley took the victory to sweep the NOLA weekend with his third and fourth GT America victories in this season's first six races. He was joined on the podium by Kurtz in second and a resurgent Jason Daskalos who finished third in the No. 27 CP Racing Mercedes-AMG® GT3.
After just missing out on a podium finish last month at Sonoma Raceway, Daskalos also followed Gidley to the finish line in Saturday's opening GT America race for a top-two Mercedes-AMG® GT3 finish that was topped only by Sunday's result. The strong NOLA finishes provisionally keep both Gidley and Daskalos first and second in the GT America early-season championship standings after the first half-dozen of this year's 18 scheduled races.
Kurtz closed out the NOLA weekend with a convincing overall and Pro-Am class victory in Sunday's featured Fanatec GT World Challenge America 90-minute race. Co-driving with longtime teammate Colin Braun, Kurtz stayed clear of several late-race incidents to secure his and the team's second victory in this year's first four GT World Challenge races.
Saturday's rain-delayed GT World Challenge opener saw co-drivers Scott Smithson and Bryan Sellers step up for the best Mercedes-AMG® results of the day with a second-place Pro-Am finish and top-five overall result in the No. 08 DXDT Racing Mercedes-AMG® GT3.
In Pirelli GT4 America competition, co-drivers Michai Stephens and Jesse Webb couldn't have come closer to their first overall race win together in the No. 34 Conquest Racing/JMF Motorsports Mercedes-AMG® GT4 on Sunday. The 60-minute race was the only Pirelli GT4 race of the NOLA weekend after Saturday's scheduled opener was postponed after a lengthy rain delay.
On Sunday, Stephens and Webb appeared to take their third-straight class win and maiden overall victory after co-driving to a pair of Silver-division victories in their first race weekend together last month in Sonoma. Stephens muscled past the race leader on the final lap of the race, but a drag race down the front straight to the checkered flag was too close to call.
Although race timing reports list Stephens as taking the No. 34 across the finish line .004 of a second ahead, officials awarded the victory and Silver-class win to their competitor by the same margin after an apparent photo-finish review.
Saturday's scrubbed race is expected to be added as third make-up race on a scheduled Pirelli GT4 doubleheader event weekend later in the season.
Additional NOLA weekend winners included Anthony Bartone and Andy Pilgrim in the No. 43 Bartone Bros. Racing with RealTime Mercedes-AMG® GT3. The team and drivers secured uncontested Am-class wins in both Fanatec GT World Challenge races to highlight an otherwise up-and-down weekend that the team and drivers considered a learning experience.
Next up for Mercedes-AMG® Motorsport Customer Racing teams in SRO Motorsports America competition is an all-series weekend of competition at Circuit of The Americas (COTA) in Austin, Texas, May 19 – 21. Mercedes-AMG® Motorsport customer GT Daytona (GTD) and GTD Pro teams in turn next compete in the IMSA WeatherTech SportsCar Championship race at WeatherTech Raceway Laguna Seca, May 12 – 14.
Memo Gidley, Driver – No. 101 Flying Lizard/TKO Motorsports Mercedes-AMG® GT3: "Frankly, I didn't think we had it this weekend until Saturday morning. We made a couple of changes and went out in qualifying, and it shocked me. The car was feeling really good, and I knew we had a good chance then. On new tires, we were fastest again. We got caught in traffic, and second place was closing, but our car was better with the tires. The longer we went, I could just keep peeling off the laps without trying to hustle the car too much. On Sunday, I just put my head down and tried to get a little bit of a gap so that those guys would battle each other, and ultimately that's what I think hurt them and allowed me to have some clear laps. The TKO Mercedes-AMG® GT3 was hooked up and really great. The foundation of this group comes from Flying Lizard, which is awesome. TKO Motorsports stepped in and sponsors my car and provides people as well, and it's the same thing. The entire group is very competitive."
George Kurtz, Driver – No. 04 CrowdStrike Motorsports with Riley Mercedes-AMG® GT3: "You've got to give credit to the CrowdStrike Riley team. They did a fantastic job, the strategy was amazing, they kept Colin out for as long as possible and gave me a great lead. We had a perfect pit stop. We made it interesting with a few restarts, but we were able to pull it out and it was a picture-perfect win. The Mercedes-AMG® GT3 was so good here, it just did everything really well. The GT America race was great for Mercedes-AMG®, one-two-three. We came from behind two spots to get P2, really battled hard with Jason, and I just had to pick my spot at the end. There were only a few minutes left, so we got it done in the esses through traffic and were able to put it away. We're happy to be a part of the Mercedes-AMG® family and look forward to the next race."
Colin Braun, Driver – No. 04 CrowdStrike Motorsports with Riley Mercedes-AMG® GT3: "I'm super proud of the strategy from the guys on the box. They are the best in the business. It was full push and I think we dropped a second a lap and put some good laps in to build the gap. It looked like it was going to be a relatively straightforward day and then we got all those yellows at the end. George did a fantastic job surviving the restarts each time and it was just very good execution all around."
Bryan Sellers, Driver – No. 08 DXDT Racing Mercedes-AMG® GT3: "We're really close as a team. I think you can see a lot of potential from both cars. You can see some speed from both cars. Now it's trying to get things to fall in our direction a little bit. For sure, we have a little bit more work to do in terms of speed to get the last little bit out, so we have to figure out how to get there to get a win. But I'm very happy with how the team is progressing. Each week we continue to build more and more continuity and more and more confidence and knowledge. I'm really looking forward to the next couple here and seeing what the future brings."
Anthony Bartone, Driver – No. 43 and No. 427 Bartone Bros. Racing with RealTime Mercedes-AMG® GT3: "We had some ups and downs this weekend. At the end of the day, as long as we learned something, that's the objective. In GT America race one, I made a mistake and then in race two we got a penalty. I just went back out and worked on my race craft and got some guys. In Fanatec GT World Challenge we keep refining the car and getting more seat time for the future."
Michai Stephens, Driver – No. 34 Conquest Racing/JMF Motorsports Mercedes-AMG® GT4: "The racing just goes to show how wonderful this series and the car itself is. All due credit to the Mercedes-AMG® GT4 platform with the support of JMF/Conquest Racing and a tremendous teammate in Jesse Webb. It was nice to be there on the final step, and we tried to put it across the line nose first and we just got edged out at the end. So be it. We're here, we're enjoying all that we can, and it was neat that the Mercedes-AMG® GT4 was still under us at the end of the race."
Jesse Webb, Driver – No. 34 Conquest Racing/JMF Motorsports Mercedes-AMG® GT4: "This Mercedes-AMG® GT4 is a beautiful platform to drive. It's so balanced and a driver's car. It was an unfortunate end to the day, but P2 is still a great result for us. What an incredible finish to be side by side across the line, and the entire race was a scrap the whole way through. It was one that kept you on the edge of your seat and I can't complain. It was a good day at the office."
# # #
Further information from Mercedes-Benz, Mercedes-AMG® and Mercedes-Benz USA is available on the Internet: www.media.daimler.com, www.mercedes-benz.com and www.mbusa.com.
For more information on AMG® Customer Sports, please visit www.mercedes-amg.com/customerracing.