From Cargo to Camper: Amazing Sprinter Van Conversions to Inspire Your Next Adventure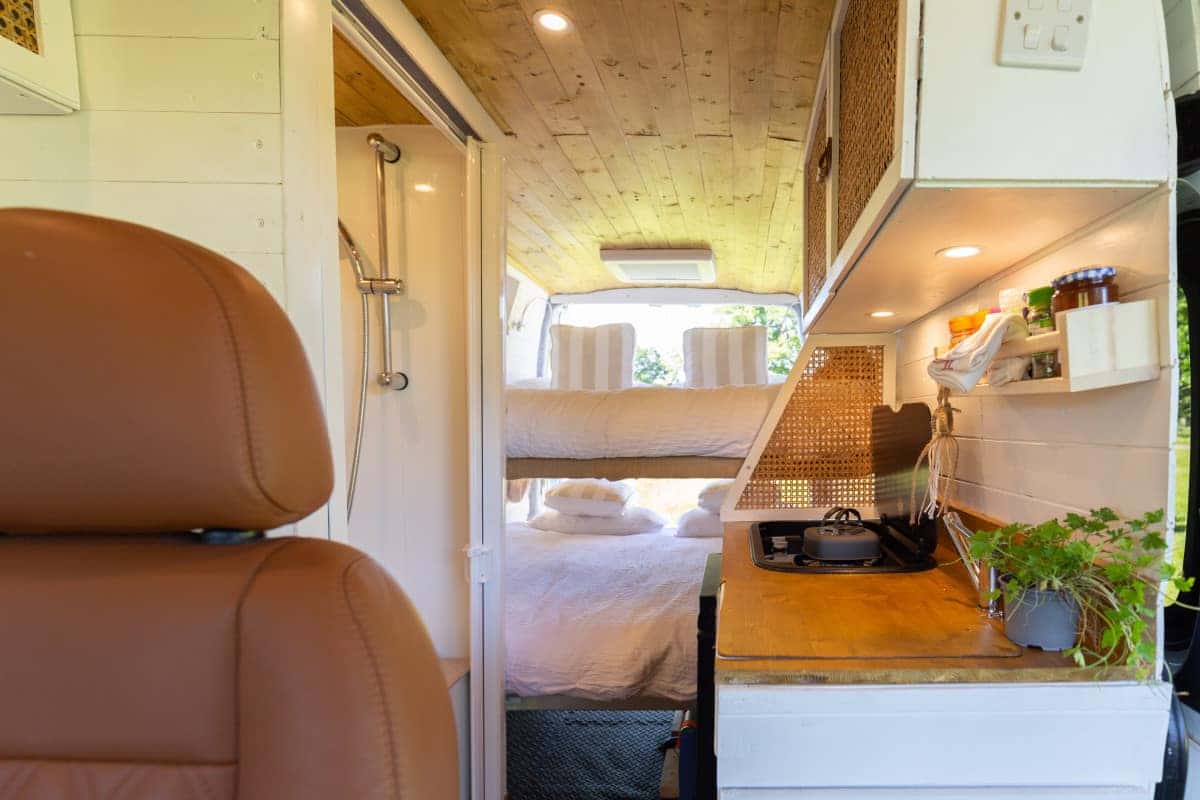 Sprinter vans have become increasingly popular in recent years, not just for commercial use but also for those who wish to explore the world by hitting the road. For individuals who have no desire to fit into societal conventions of owning a house, or for folks who just want a getaway on wheels, a sprinter van might just be one of the most attractive options out there. Most commonly, you will find people converting these work-vans into cozy campers, where the owner's unique touch can be reflected with a personalized name based on their interests or the atmosphere they aim to achieve. This blog is here to encourage you to finally take the plunge and design your own distinctive space within the sprinter van you've always wanted. Here are some amazing Mercedes-Benz sprinter van conversions to get you feeling inspired to take on your own.
SPLINTER: 2015 Mercedes-Benz Passenger Sprinter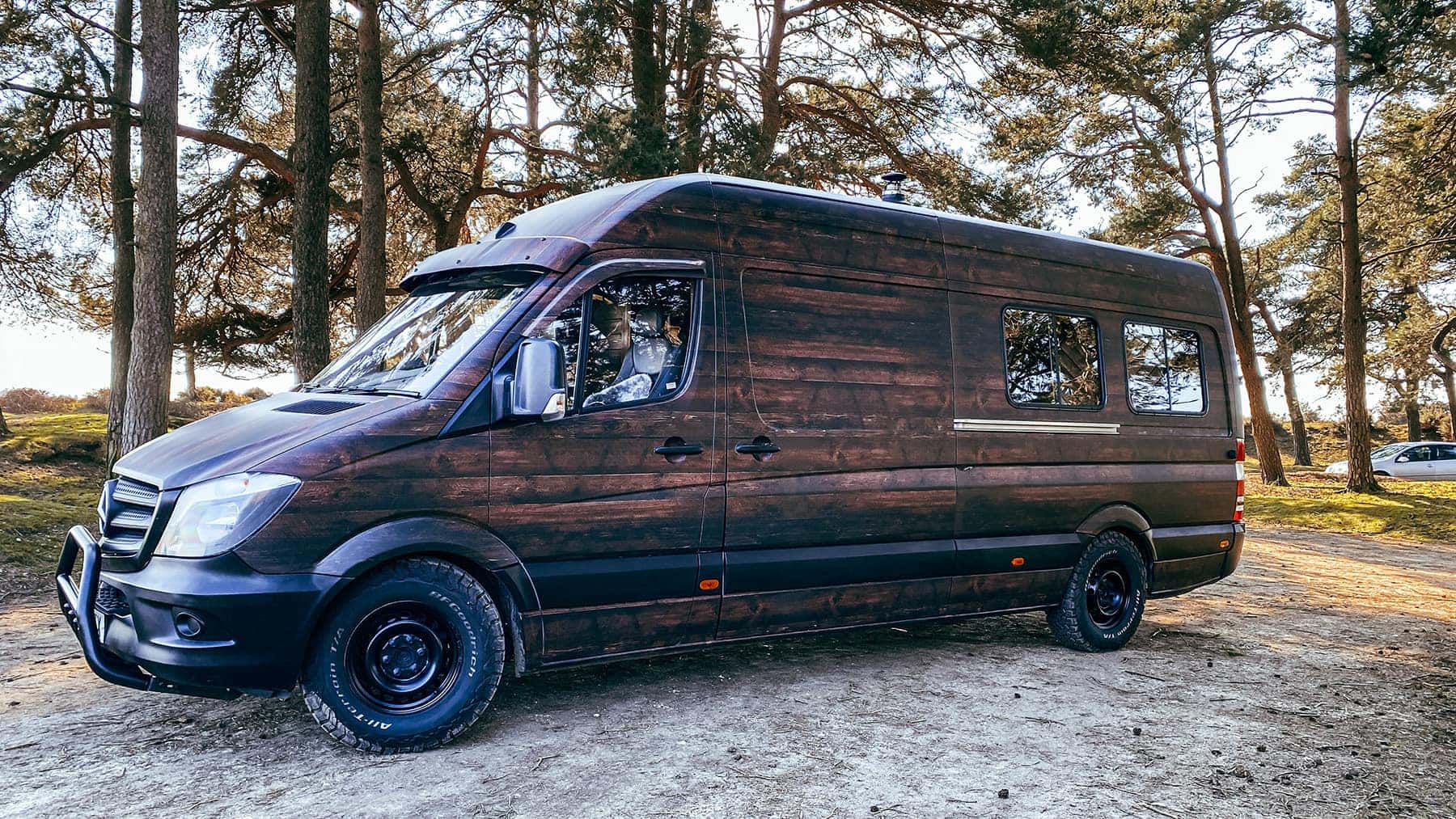 Wouldn't it be lovely to spend some time in a van that feels like an inviting wood cabin? Meet SPLINTER the Sprinter—a warm and comfortable escape on wheels. This 2015 Mercedes-Benz Passenger Sprinter can comfortably sleep two people (and even a furry friend) with a full king-size bed that can also convert into a living and dining area. The cab has luxurious leather, belted, and fully adjustable seats that can swivel towards a wood-burner, providing a perfect place to relax after a long trek along the quiet countryside.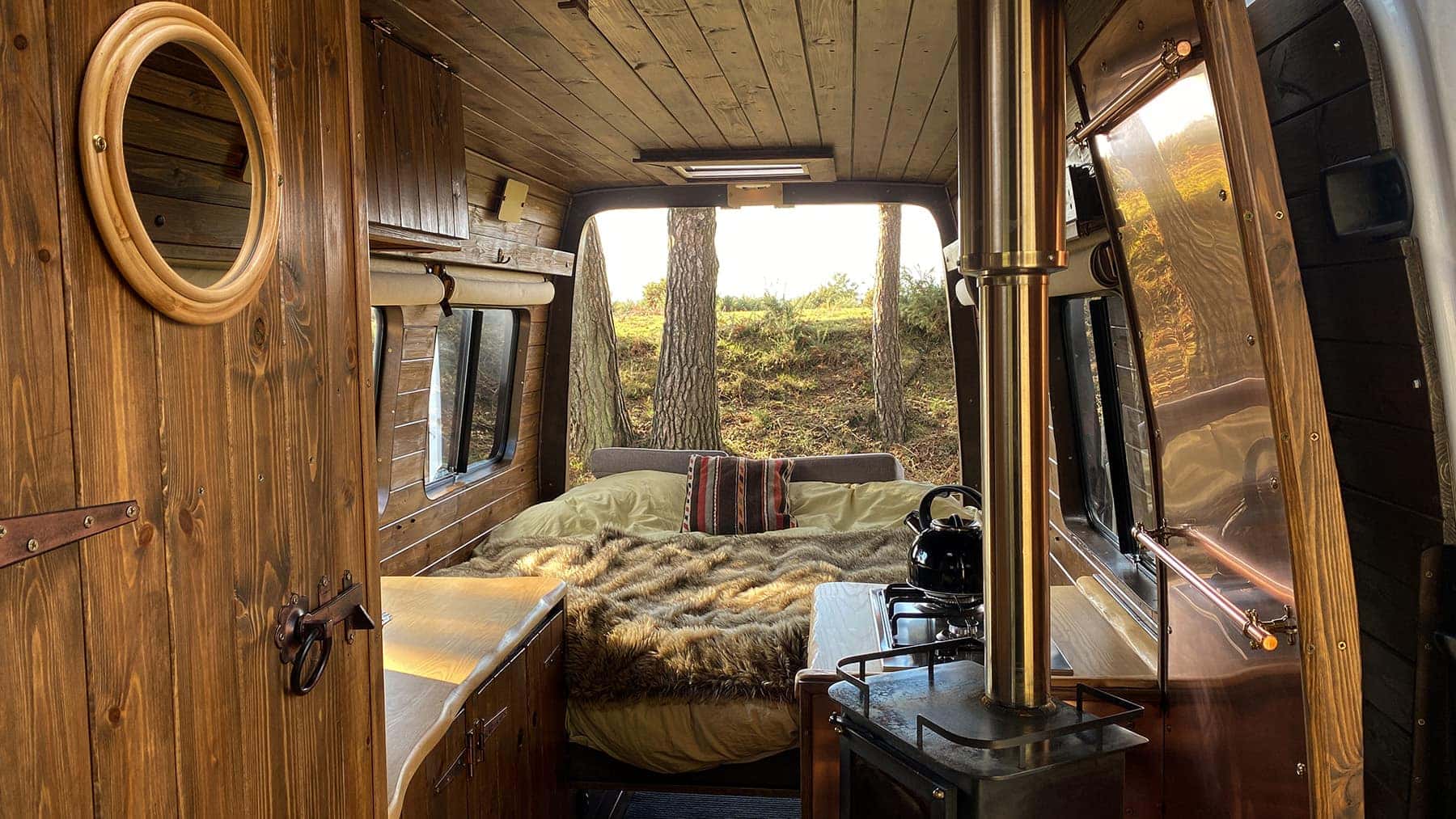 With a double burner gas hob, a microwave, and a wood-burner that also doubles as an oven, SPLINTER is equipped for your cooking needs—you could even make a batch of homemade brownies while on the road if you wanted. The vehicle's appliances are powered by solar panels and a battery connection, and also offers hot and cold-water facilities, and even a functioning shower. Wouldn't you want to experience the woodland-themed atmosphere and convenient amenities of SPLINTER the Sprinter on your next road trip?
KEV: 2013 Mercedes-Benz Cargo Sprinter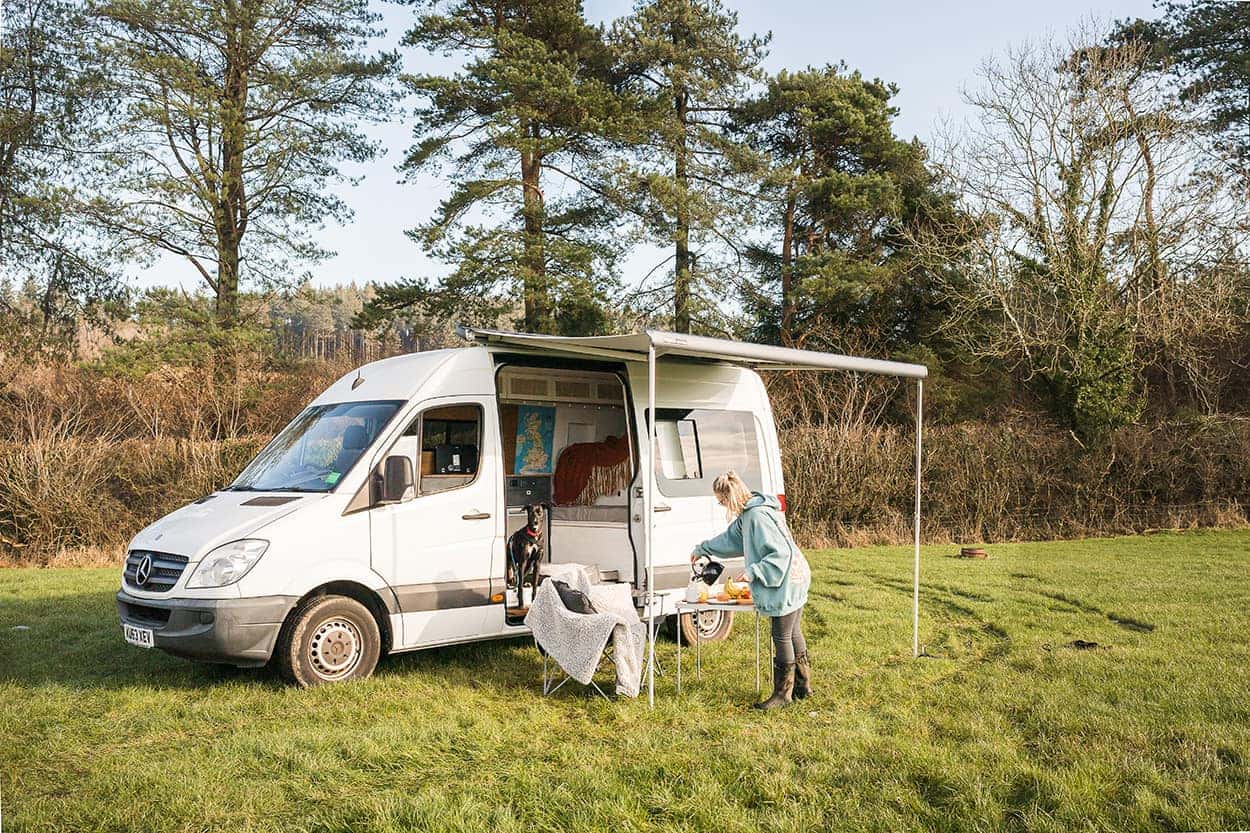 Take a moment to imagine yourself in a stunning Scandi-style campervan, with its minimalist design, combining high-quality finishes and effortless layout that makes it feel like home. KEV, as it's fondly called, offers ample space to maintain its clean and minimalist look. Its under-bed storage can be accessed from both inside and outside, while additional options include a bedroom storage unit and open shoe storage at the side door entrance.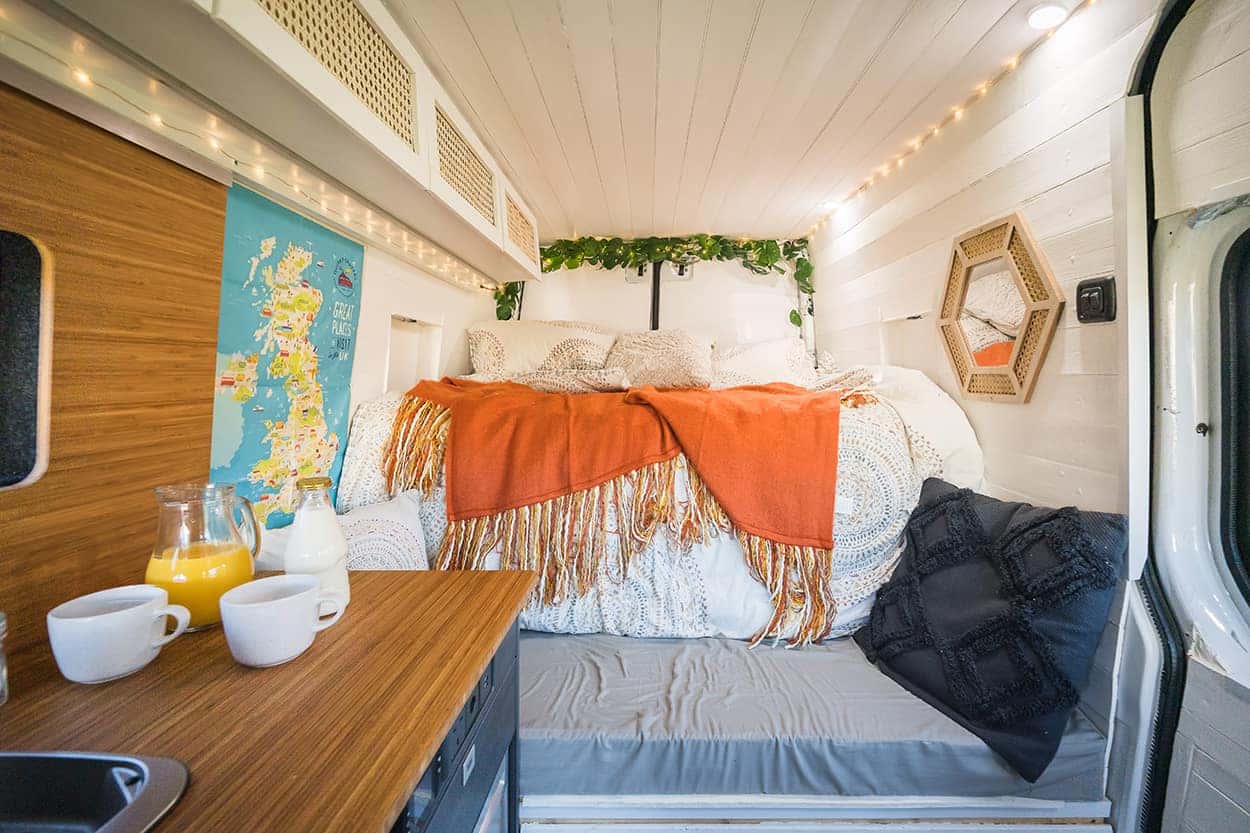 Originally a 2013 Mercedes-Benz Cargo Sprinter van, KEV has been converted into a bohemian-style living space, featuring a king-size bed and a single bed that can be transformed into seating during the day. With space for up to three adults to sleep, KEV also boasts three belted seats with headrests. The double passenger seat swivels to create two additional seats in the living area, making it perfect for tiny get-togethers. The van's electrical setup includes two 120Ah leisure batteries, a solar panel, and a 1500w pure sine wave inverter. KEV also comes equipped with cooking equipment, a pop-up en-suite with a shower and toilet, Bluetooth® audio equipment, and a diesel heater system for all-year-round camping. KEV embodies the Swedish term "hygge", which means to encompass feelings of coziness, contentment, and well-being found through cherishing the little things.
ROMA: 2011 Mercedes-Benz LWB Sprinter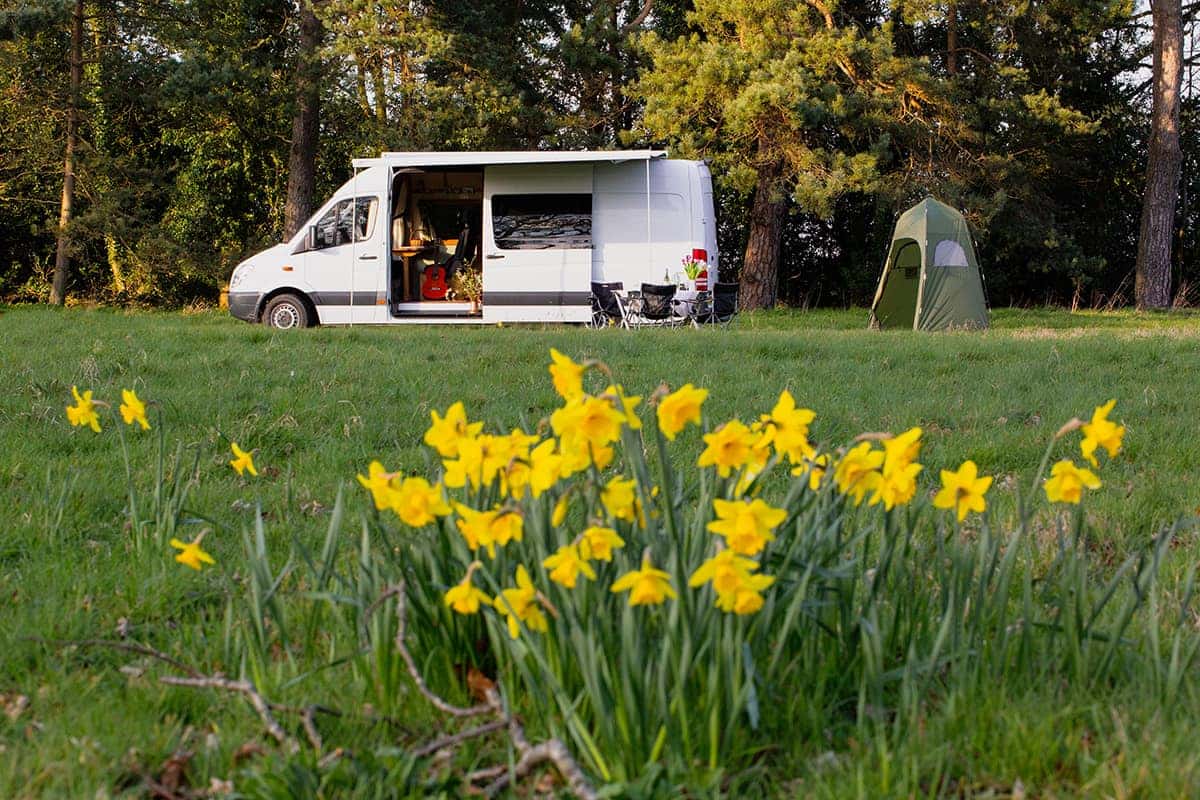 Meet ROMA, a 2011 Mercedes-Benz LWB Sprinter conversion that perfectly blends the free-spirited essence of the gypsy lifestyle with the convenience and practicality of modern van life. Born from years of wanderlust and van life experience, ROMA was designed to comfortably accommodate up to four adults with full-size fixed double bunk beds. No need to convert seats into makeshift mattresses after a long day of exploring.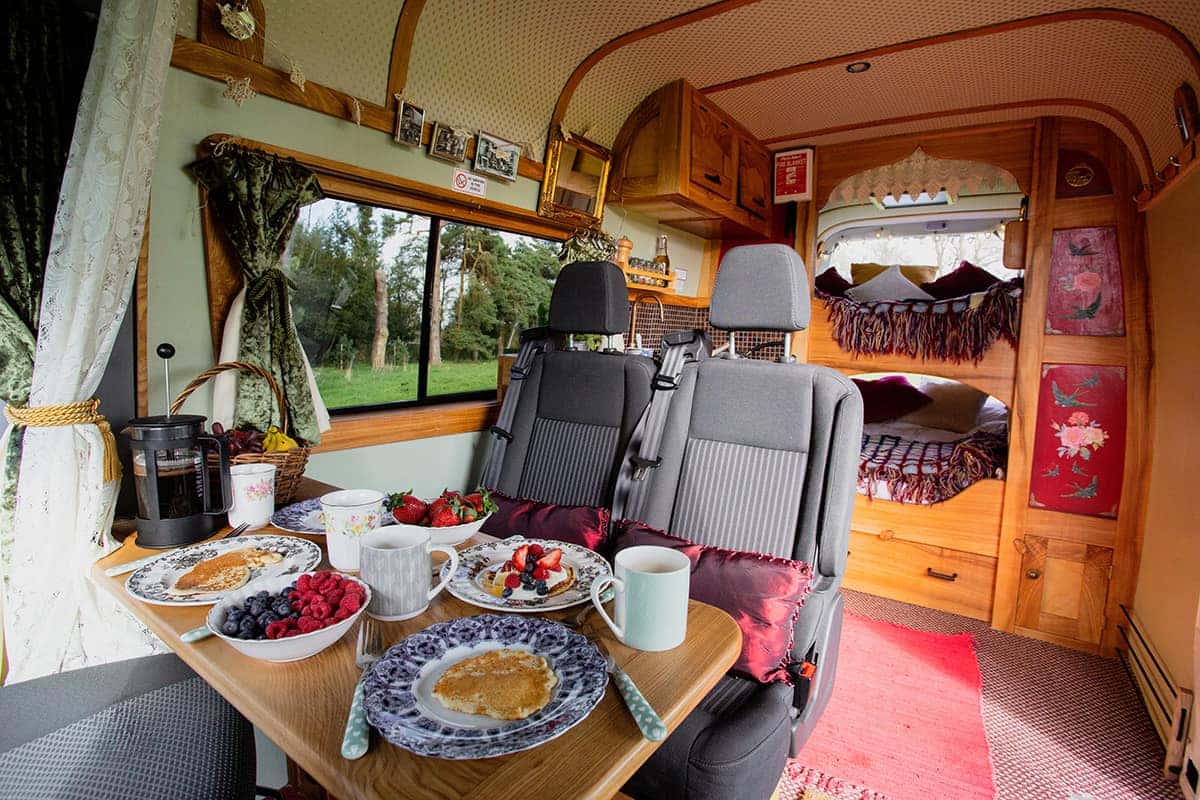 ROMA's enchanting, curved bulkheads and plush interior create a fairy-tale atmosphere, perfect for snuggling up in after a day of adventure. The wall-papered ceilings pay homage to the artistic and wood crafting skills of the Romani people, of which ROMA has an abundance. Equipped with a solar panel and power inverter, ROMA has all the necessities for venturing off the beaten path. Cooking in the wilderness is made easy with a gas hob, fridge, and jars of herbs and spices. This humble sprinter van has charm in abundance and will undoubtedly inspire other owners to follow suit.
BARBARA: 2006 Mercedes-Benz Crew Sprinter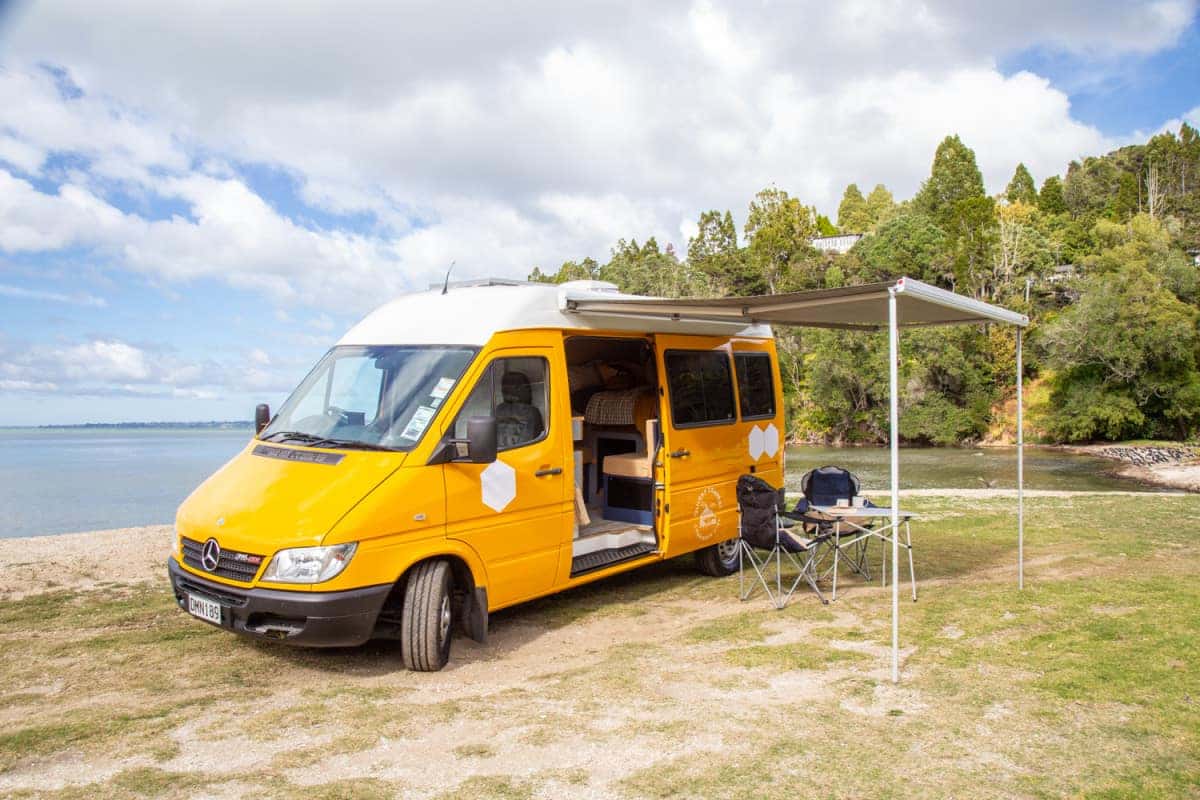 BARBARA couldn't bee any cuter. This 2006 Mercedes-Benz Crew sprinter-turned funky home-on-wheels for two people (and a dog) perfect for exploring in style and comfort. With her fresh, happy colors and bee theme she's not just fun but functional too with some clever and luxurious features. Like Having a barbecue outside? Pull out the awning, camping chairs and table, swing out the gas stove and cook up a storm. Weather not so good? Then enjoy a movie on the big screen (projector and pull-down screen) and cozy up on the king size bed and enjoy the Rain or shine, summer or winter, BARBARA is a perfect conversion.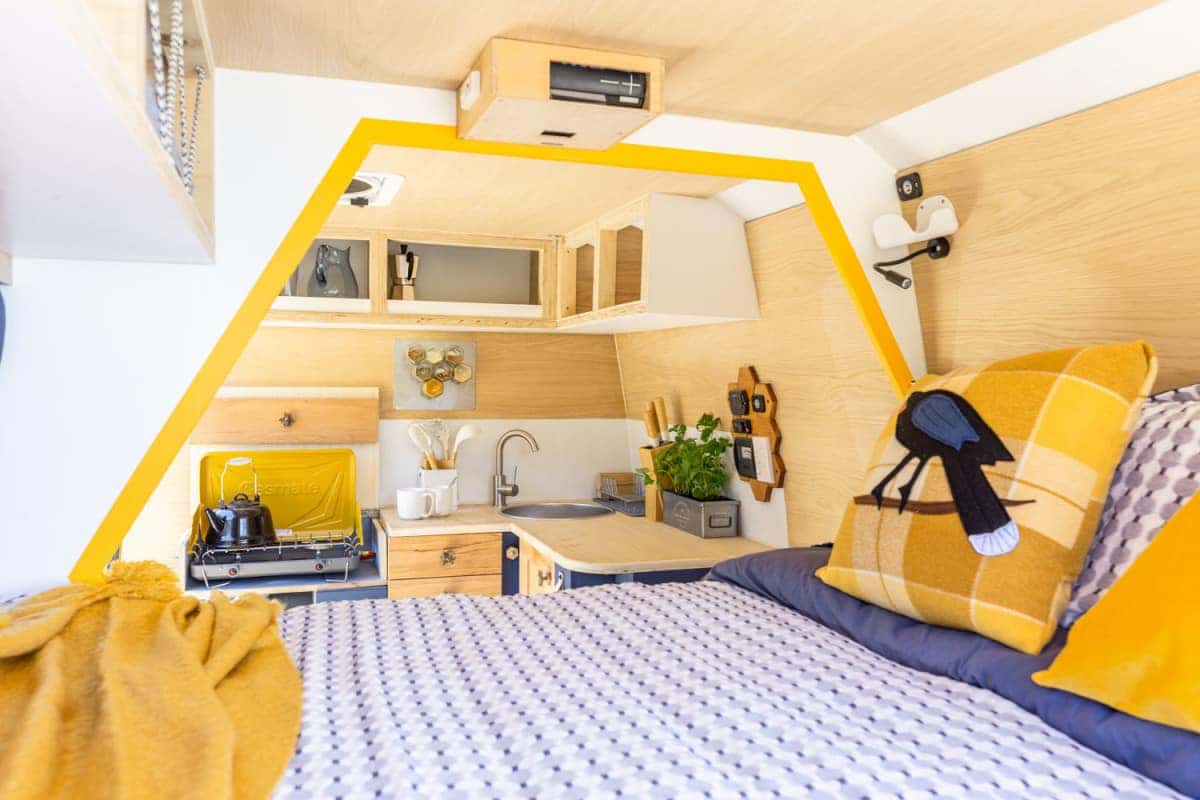 BARBARA's roof features a solar panel that supplies power to it's leisure battery, enabling it to be completely self-sufficient when using the lights, fridge drawer, diesel heater, water pump, and USB sockets. Additionally, if pared at a campsite, BARBARA has access to an electric hook-up, allowing it to use multiple electrical sockets. This conversion no doubt will make an impression on anyone who sees it, and hopefully inspire someone to take on a new style.
BLACKBERRY: 2010 Mercedes-Benz Passenger Sprinter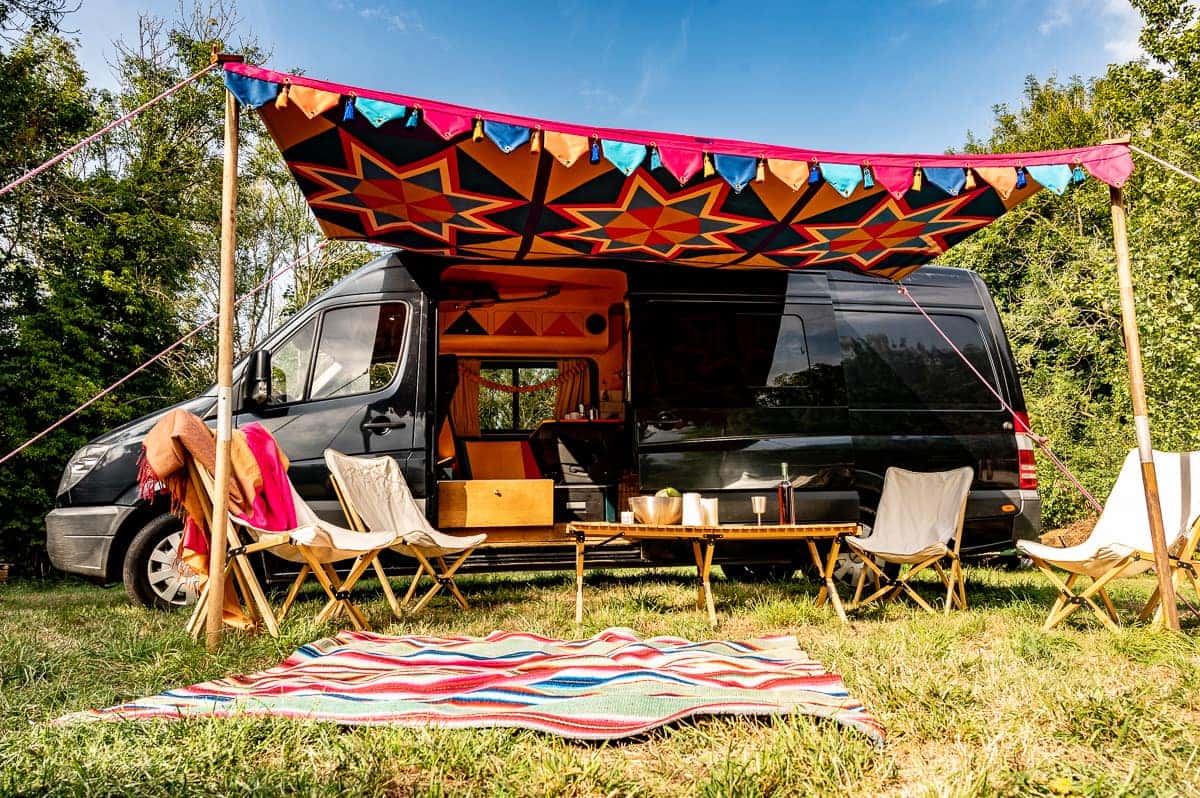 Looking for a burst of inspiration for your next ride? Look no further than this vibrant beauty– Get a taste of the most spirited, colorful looking campervan out there. BLACKBERRY the 2010 Mercedes-Benz Sprinter van is like royalty on the road. From the outside, BLACKBERRY is sleek and stealthy, but step inside and you're greeted with a burst of color and fun that will make anyone cheerful, no matter the weather. With space for up to 4 adults, BLACKBERRY has been designed with big adventures in mind. Rigged with everything you need for a comfortable trip, this colorful ride boasts adjustable beds that allow for a cozy night's sleep, leaving space for everyone to gather around the table for family dinners or game nights.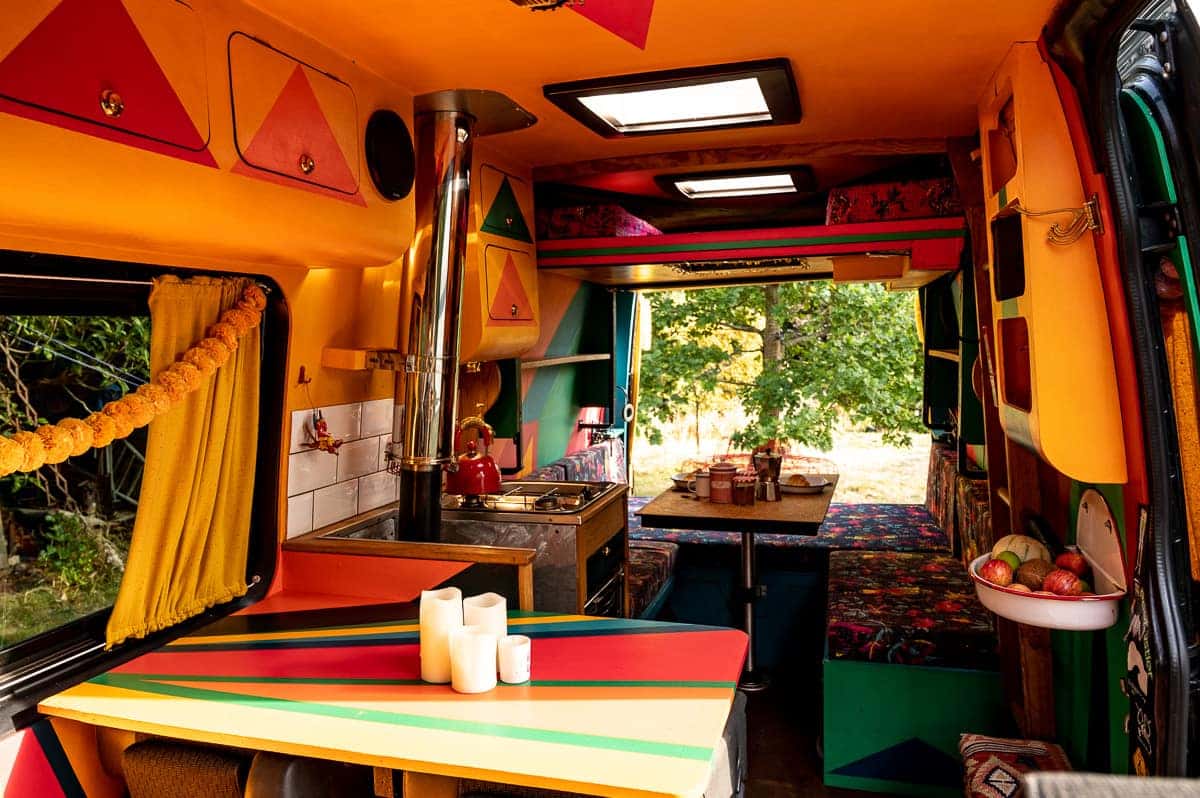 BLACKBERRY is fully equipped to go off-grid, so you can explore even the most remote destinations. And with her innovative use of space and design, you'll never feel cramped in a glorious van like this. Take a page out of her book and add a pop of color to your conversion.
ELLIOT: 2016 Mercedes-Benz Crew Sprinter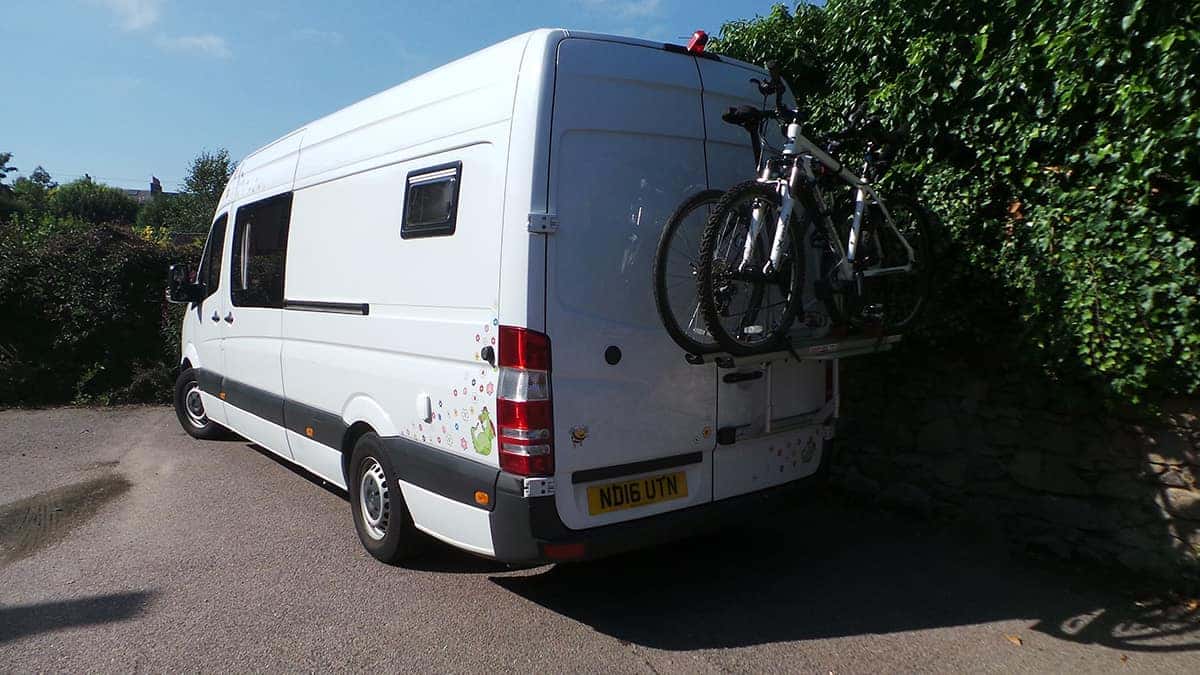 When you were a kid, didn't you just want to live at Grandma's house forever? ELLIOT has been designed to optimize space, ensuring that every inch of this 2016 Mercedes-Benz Cargo sprinter is utilized to provide maximum convenience and the familiar comforts of home. From the internal shower with toilet to the roll-out table, everything has been built by hand to provide the perfect fit and ease of use.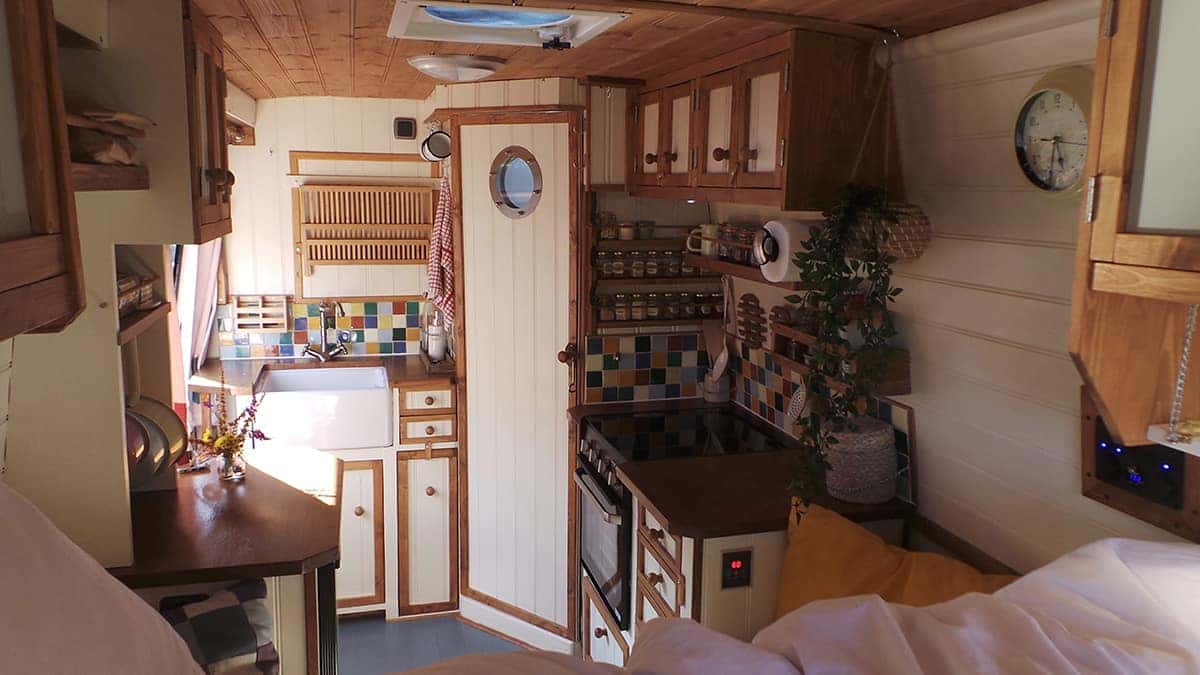 There's also loads of storage space, so you don't have to worry about leaving anything behind. And if you're out exploring and come back all wet and muddy, there's ample storage in the back for all your gear. Plus, there's a permanently fixed rack for two bikes, so you can go on a cycling adventure too. Whether the sun is shining or it's raining, wouldn't you enjoy your days exploring and your evenings relaxing in the nostalgia of home?
PUMBAA: 2013 Mercedes-Benz Passenger Sprinter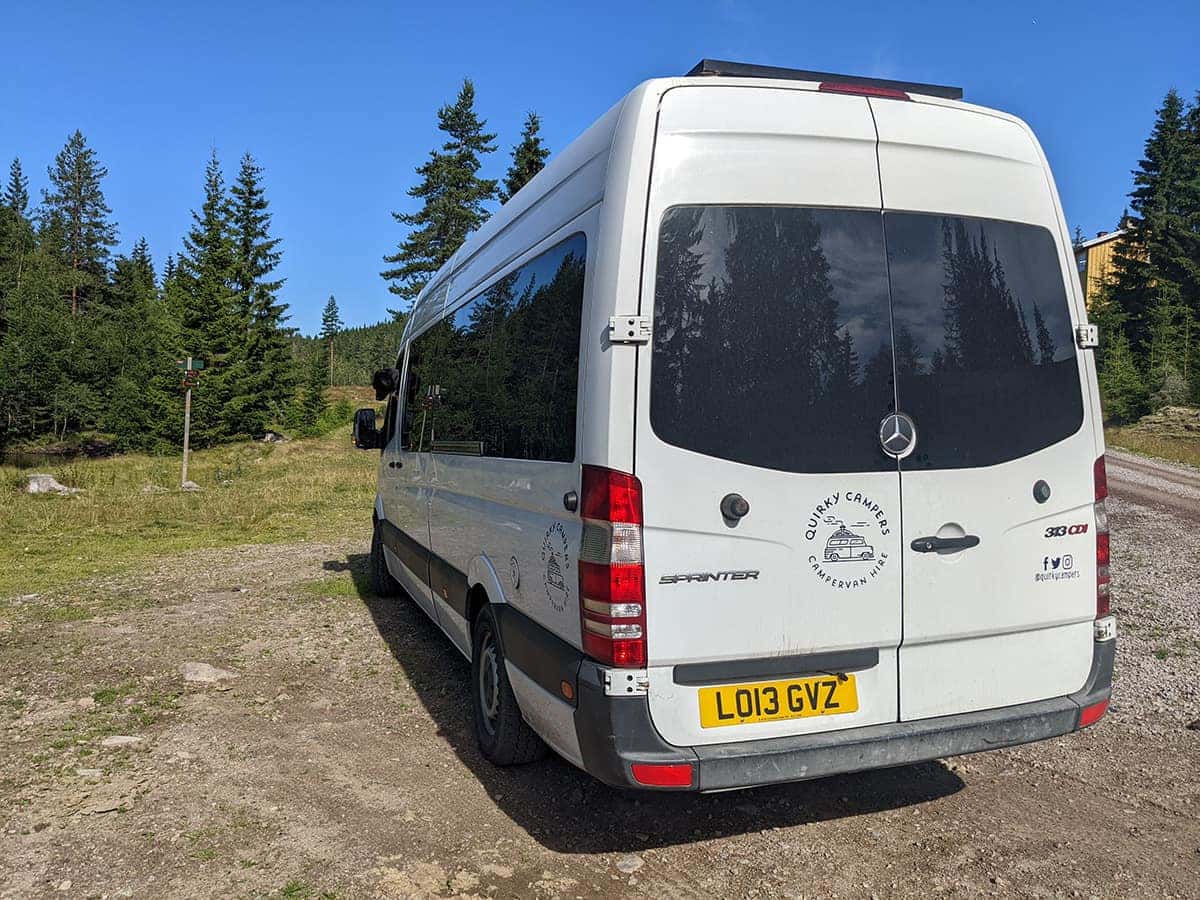 In your quest for inspiration, if you're looking for modern simplicity, look no further than PUMBAA. With a sleek, clean interior, complete with marble countertops and a spacious indoor bathroom, this style of campervan will make you feel like you're staying in a luxurious hotel. The king-size bed is perfect for couples to relax after a romantic sunset stroll, or for solo travelers to stretch out after a strenuous hike.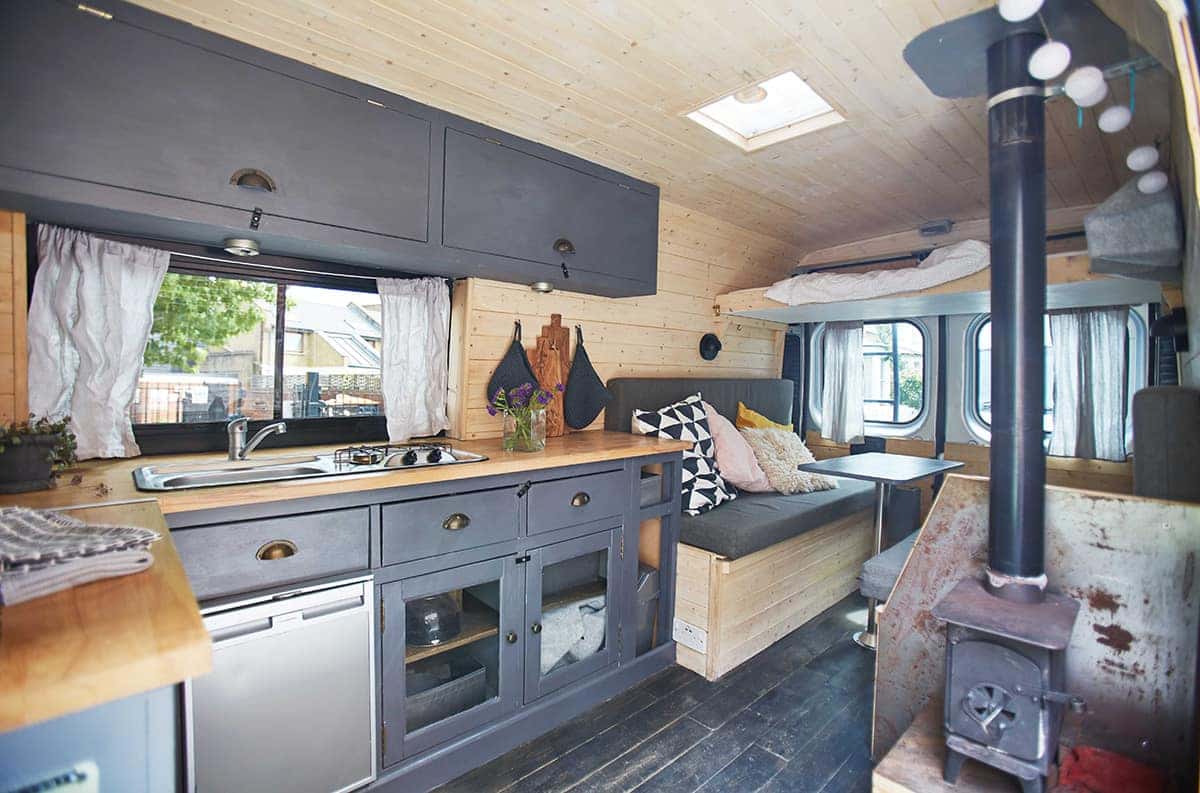 This 2013 Mercedes-Benz Passenger Sprinter conversion even offers an exceptional cooking experience, allowing you to enjoy every meal in style. Start your day off right with a cup of coffee, prepare a delicious lunch using the dual induction hobs, and end your day with a barbecue under the stars. PUMBAA's kitchen is fully equipped with a refrigerator, and even a Soda-Stream. With PUMBAA's powerful solar setup, a huge freshwater tank, and heater to keep you cozy on chilly nights. Maybe while converting your van, you can follow in PUMBAA's very chic footsteps.
FREYA: 1995 Mercedes-Benz 310 Luton Box Sprinter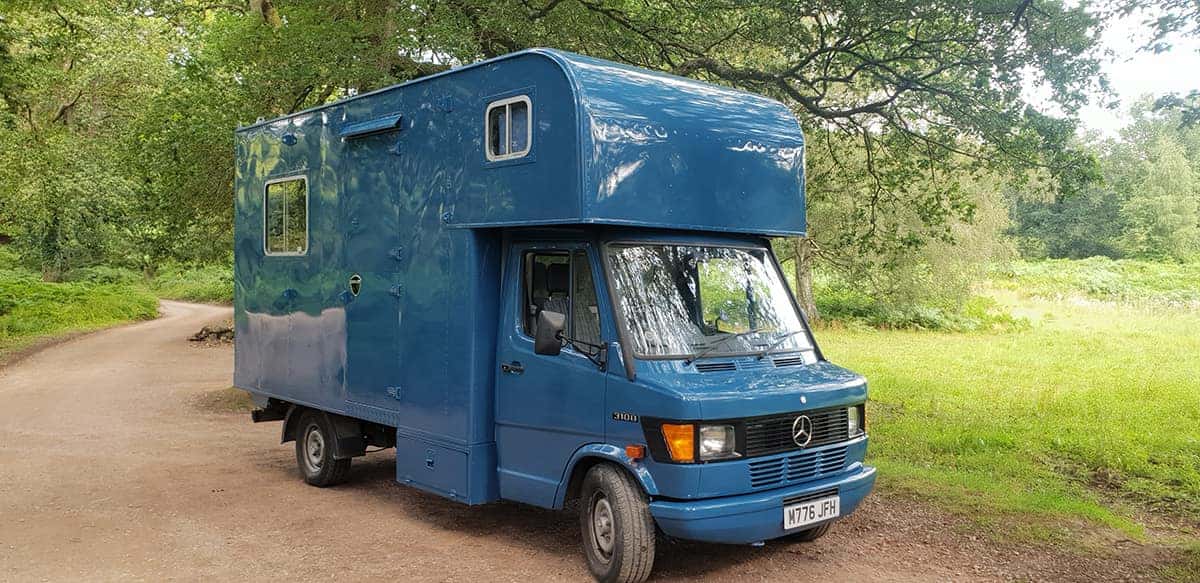 Maybe the vans shown above just aren't your style, and you're Looking for a more rustic travel experience—Look no further than FREYA, decked from head to toe in vintage fabrics and hand-patterned metalwork. Originally used as part of a travelling theater and later as living accommodation in a circus, this campervan shows off it's one-of-a-kind journey. On chilly nights, snuggle up in the cozy bed or curl up with a good book by the wood-burning stove. And on sunny mornings, throw open the stable door for a fresh air breakfast.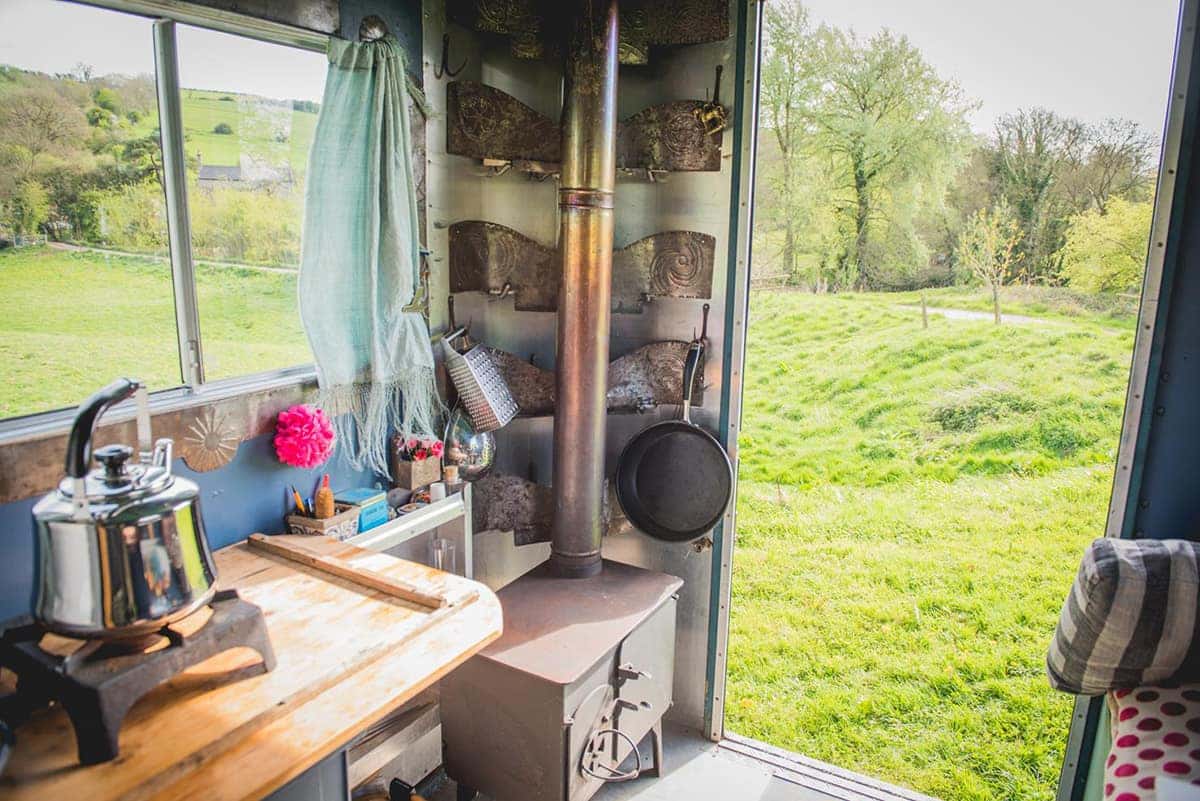 This 1995 Mercedes-Benz 310 Luton Box Sprinter has a new solar system installed, providing interior 12-volt lighting and USB charging points with plenty of power. Despite its age, it's equipped with modern amenities and all the same comforts that newer campervans have to offer. If your van is older, don't feel like you can give it a new life with a little elbow grease and a lot of love.
Are you feeling inspired yet? By converting a sprinter van into a mobile home, you not only gain the freedom to explore at your own pace, but also the ability to tailor your living space to your unique needs and preferences. With an infinite array of designs to be inspired from, whether minimalist or luxurious, the possibilities are virtually endless when it comes to sprinter van conversions. Whether you're an avid traveler or simply seeking a new adventure, embarking on a sprinter van conversion can be an exciting and rewarding journey. So let us draw up some inspiration, roll up your sleeves, and begin planning your dream sprinter van conversion.