Express your drive: the new Mercedes-Benz CLA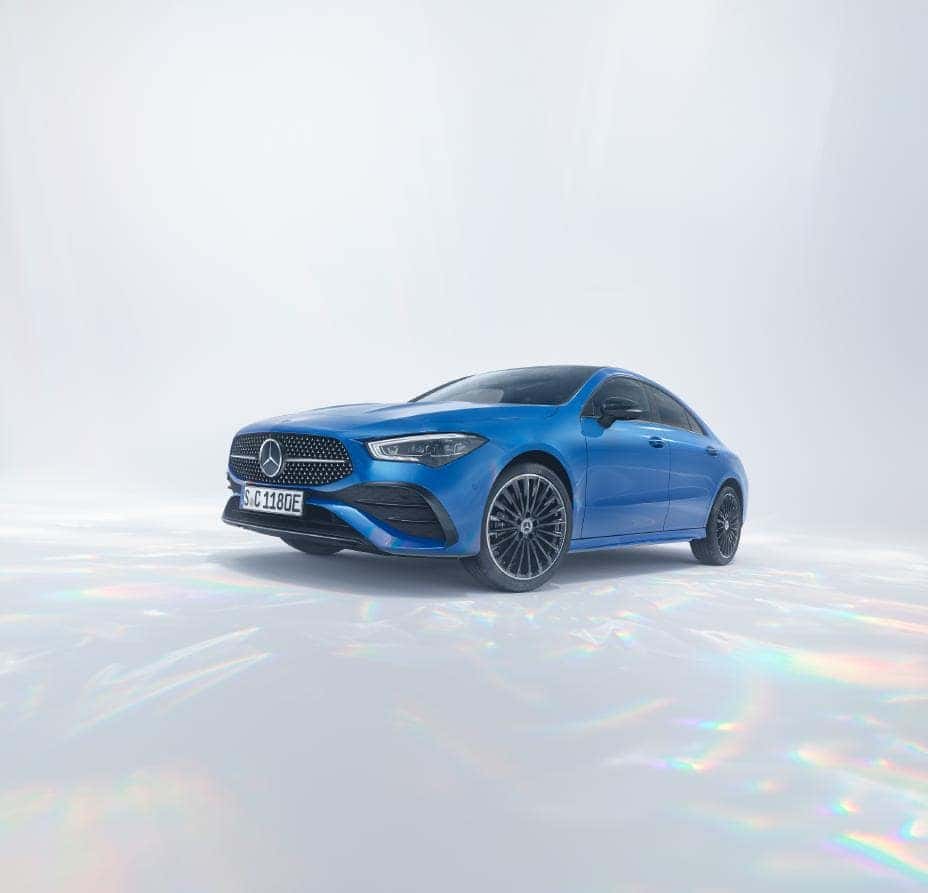 New front and rear design
LED High Performance headlamps, leather steering wheel and 10.25-inch media display featured as standard
Latest generation MBUX infotainment and optional immersive sound experience with Dolby Atmos®
Upgraded Driver Assistance Package and electrified powertrain
With numerous innovations and upgraded standard equipment, the Mercedes-Benz CLA Coupe continues to be a trendsetter in the compact segment. The newly shaped front fascia, revised radiator grille with star pattern and new rear diffuser sharpen the sporty character. Added to this are the modernized graphics in the LED High Performance headlamps, which are fitted standard, and the LED taillights. The new paint colors Hyper Blue (exclusive to the CLA models) and Starling Blue, as well as three additional wheel designs in sizes up to 19 inches, extend the choice for individualization. The new 2024 CLA Coupe will arrive at U.S. dealerships later in 2023.
Exclusive interior with high-tech look, fresh colors and new trims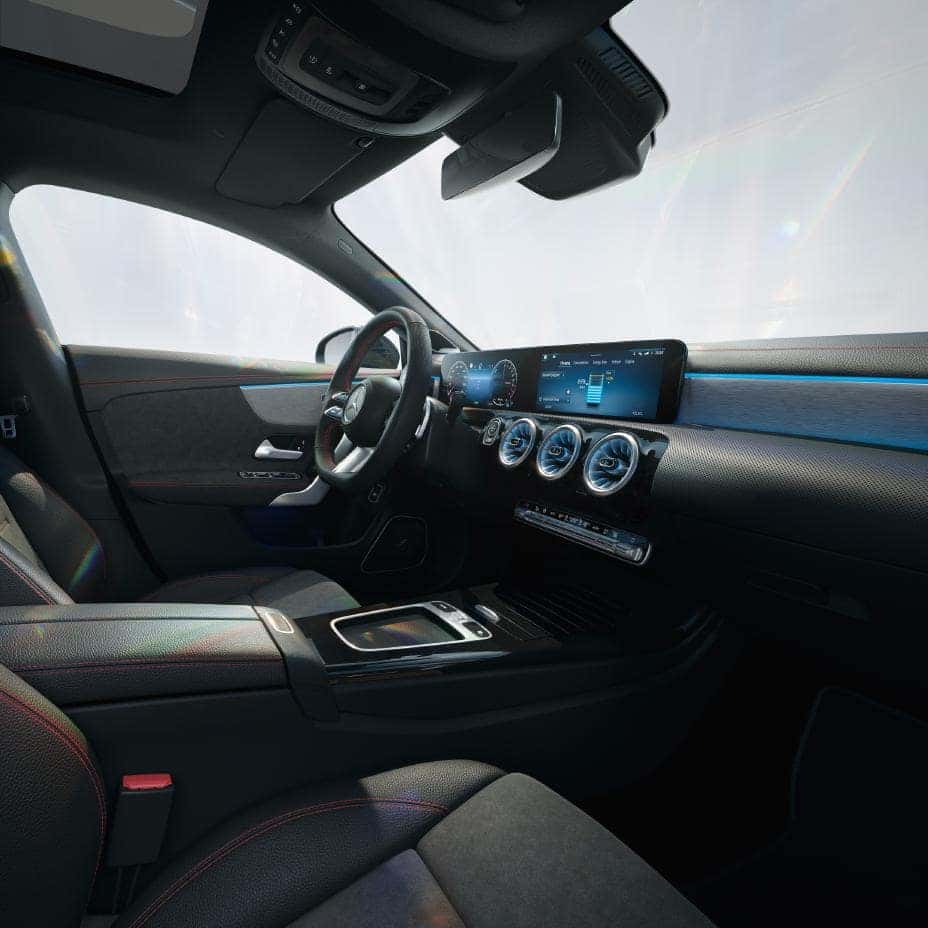 The highlight of the interior is the free-standing dual screens. It includes a 10.25-inch digital instrument cluster and a 10.25-inch multimedia display as standard. They offer a holistic high-tech experience and create an exceptionally open spatial architecture. The steering wheel is upholstered in Nappa leather as standard, while a heated steering wheel is also available in the AMG® Line for the first time. New trim elements in a dark carbon look, open-pore brown linden wood or brown microfiber (AMG® Line only) further enhance the interior.
The Progressive equipment line offers three interior colors: Black, Macchiato Beige and Sage Grey. In the AMG® Line, the standard seat upholstery in MB-Tex/microfiber is now also available in Bahia Brown. A total of five upholstery colors are available in the AMG® Line: Black, Bahia Brown, Sage Grey, Titanium Grey Pearl/Black and Red/Black.
The MB-Tex/microfiber seat upholstery consists largely of recycled materials, 65 percent in the middle section of the seat and 85 percent in the bottom fabric. The use of recycled materials is an important measure on the way to CO2 neutrality. As early as the end of this decade, Mercedes-Benz aims to at least halve the CO2 emissions per passenger car in the new vehicle fleet over the entire life cycle compared to 2020. From 2039 onwards, the passenger car and van fleet aims to be CO2-neutral with offsets across the entire automotive value chain.
Significantly upgraded equipment
Mercedes-Benz has significantly upgraded the standard equipment and tailored the offer logic even more precisely to specific customer tastes. For example, the standard equipment of the new CLA already includes Highbeam Assist, a reversing camera and the USB package, in addition to the leather steering wheel and LED front headlamps. Customers also receive the Parking Package and Mirror Package as standard equipment. Other functional equipment is bundled into packages based on real customer behavior.
Latest generation MBUX and Burmester® sound system with Dolby Atmos®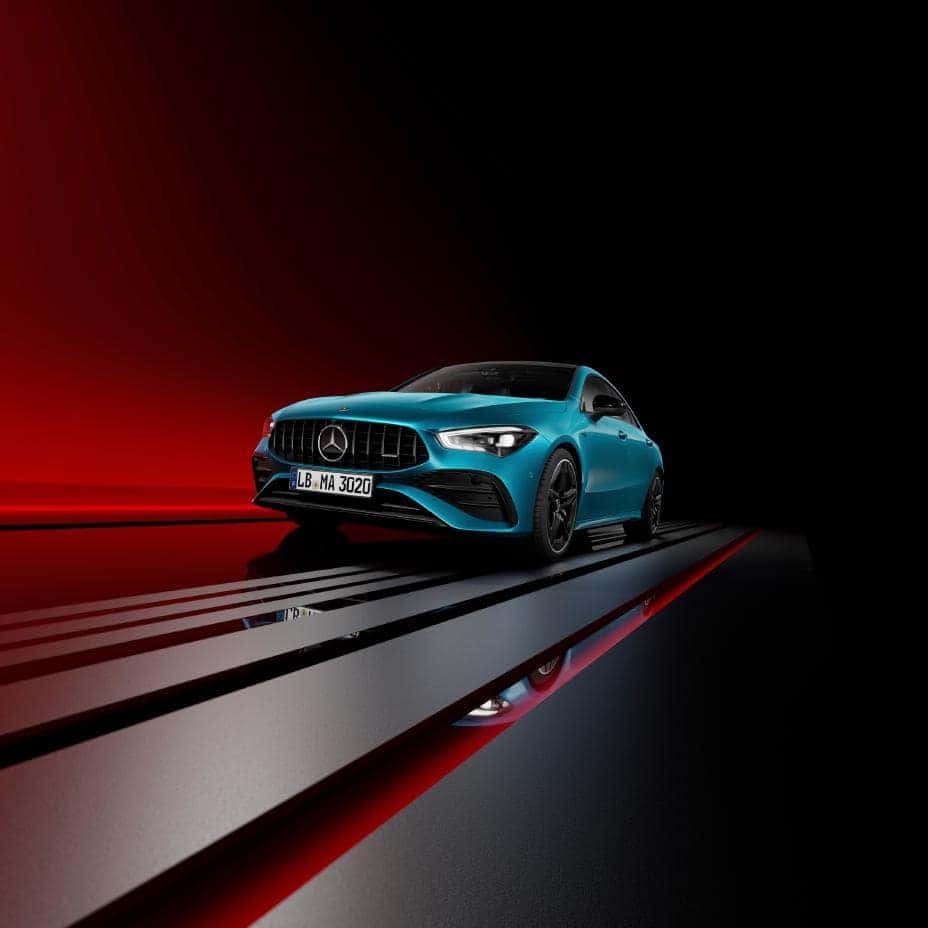 The CLA Coupe features the latest generation of MBUX – with newly designed display styles: "Classic" provides all relevant driver information, "Sporty" impresses with the dynamic tachometer and "Discreet" is limited to the most essential items. Together with the three modes (Navigation, Assistance, Service) and seven color worlds, the instrument cluster and central display can be individualized according to the driver's preference and the situation. The central display offers all previous functions such as navigation, media, phone, and more, and can be operated conveniently as a touchscreen.
The revised telematics system impresses with a new design and improved performance. A new feature is wireless smartphone connectivity via Apple CarPlay and Android Auto. For further connectivity, the CLA Coupe has an additional USB-C port and increased USB charging capacity. All USB ports are also now illuminated.
With the activation of online services in the Mercedes me app1, the "Hey Mercedes" voice assistant becomes even more capable of dialogue and learning. Certain actions can also be triggered without saying "Hey Mercedes." The MBUX voice assistant can also explain vehicle functions.
In conjunction with the latest MBUX infotainment, the optional Burmester® surround sound system now features the immersive Dolby Atmos® audio experience, which gives music more space, clarity and depth. Dolby Atmos® allows discrete audio elements or objects to be placed in a three-dimensional sound field and adapted to any playback environment.
The new CLA is also available with enhanced driver assistance technology. With the upgraded Driver Assistance Package, Lane Keeping Assist is controlled much more comfortably by the active steering control. The next generation Parking Package, equipped standard, supports longitudinal parking and offers 360-degree visualization for camera-assisted parking using 3D images.
Electrified powertrain
The mild hybrid four-cylinder gasoline engine is equipped standard with an additional 48-volt on-board power supply that supports agility at start-up with 13 hp more power. The new belt-driven starter-generator noticeably improves customer comfort and experience by enabling low-vibration and low-noise engine starting as well as coasting with the combustion engine switched off. During braking and acceleration, the starter-generator recuperates and thus supplies the 12-volt on-board network and the 48-volt battery with electrical energy. This can support the combustion engine during acceleration. The new ECO Score 3.0 motivates drivers to adopt fuel-saving behavior through a differentiated evaluation of the various driving phases.
At a glance
| | | | |
| --- | --- | --- | --- |
| | | CLA 250 Coupe | CLA 250 4MATIC® Coupe |
| Displacement | cc | 1,991 | 1,991 |
| Rated output | hp | 221 | 221 |
| at | rpm | 5,500 | 5,500 |
| Add. output (boost effect) | hp | 13 | 13 |
| Rated torque | lb-ft | 258 | 258 |
| Acceleration 0-60 mph | s | 6.3 (est.) | 6.3 (est.) |
| Top speed | mph | TBA | TBA |
Updates for CLA from Mercedes-AMG®
Newly designed headlights and taillights
CLA 35 with AMG®-specific radiator grille
Belt-driven starter-generator and 48-volt electrical system for CLA 35
CLA 45 S power output elevated to 416 hp
AMG® Performance steering wheel as standard
Numerous updates make the CLA Coupe from Mercedes-AMG® even more desirable. The new exterior design is particularly striking on the CLA 35 Coupe. Both models have been given an AMG®-specific radiator grille with vertical slats, a reshaped front fascia and a round badge with the AMG® emblem that reinforces the brand identity for both models. The revised design of the inside of the LED headlights and the LED taillights also highlight the changes in each model. The 2024 Mercedes-AMG® CLA 35 and CLA 45 S Coupe will arrive at U.S. dealerships later in 2023.
New AMG® alloy wheels
There are three new alloy wheels for the 35 models: standard 10-spoke, 18-inch wheels in black with high-gloss machined surfaces, and optional 19-inch wheels with a five-twin-spoke design in matte black with high-gloss machined surfaces or in matte black with a high-gloss machined rim flange. New wheels for the CLA 45 S include standard 19-inch wheels with a five-twin-spoke design in matte black with high-gloss machined surfaces, or optional 19-inch wheels in a five-twin-spoke design in matte black with a high-gloss machined rim flange.
New interior upholstery colors
In the interior, customers will discover new upholstery for the standard sports seats or the optional AMG® Performance seats. Sage Grey/Black MB-Tex and Red/Black leather upholstery is available for the first time with a leather seat option. For the trim elements, open-pore brown linden wood trim completes the optional selection.
The Mercedes-AMG® CLA models offer the new AMG® Performance steering wheel with double-spoke design and seamlessly integrated AMG® Drive Unit buttons as standard. The AMG® steering wheel buttons impress with brilliant displays and intuitive operation. These allow for important driving functions and all drive programs to be controlled without the driver taking their hands off the steering wheel.
The new Mercedes-AMG® CLA models also benefit from the latest generation MBUX: more performance and the AMG®-specific screen design make the brand experience tangible.
AMG® CLA 35 technically upgraded
The CLA 35 is now equipped with a 48-volt electrical system and a belt-driven starter-generator. The second-generation starter-generator acts as a mild hybrid, providing a temporary power boost of 13 hp as well as functions such as coasting and recuperation for greater efficiency. The 48-volt technology also increases comfort, as the transitions of the start-stop and coasting functions are almost imperceptible. The powerful and agile, AMG®-enhanced 2.0-liter four-cylinder turbocharged engine produces 302 hp, which is variably distributed to all four wheels via the AMG® SPEEDSHIFT® DCT 8G transmission and AMG® Performance 4MATIC® all-wheel drive. The sporty performance (0-60 mph acceleration in 4.8 seconds) is combined with a wide range of driving experiences – from very sporty to comfort. The new front radiator improves temperature management at the limit.
AMG® CLA 45 S increased output
With its power output elevated to 416 hp, an increase of 34 hp, the CLA 45 S accelerates from a standstill to 60 mph in 4.0 seconds. The top speed is limited to 167 mph. In addition to the pure performance figures, the Handcrafted AMG® 2.0-liter turbo engine impresses with its spontaneous response. The performance capabilities are extenuated through the new AMG® Aerodynamics Package Plus, which includes a fixed rear spoiler. This generates powerful negative lift force at the rear axle and improves handling at high speeds. The striking AMG® rear spoiler also ensures the expressive look of an uncompromising racer.
At a glance
| | | | |
| --- | --- | --- | --- |
| |   | Mercedes-AMG® CLA 35 Coupe | Mercedes-AMG® CLA 45 S Coupe |
| Engine | | AMG®-enhanced 2.0L inline four with exhaust-gas turbocharger | Handcrafted AMG® 2.0L inline four with twin-scroll exhaust turbocharger mounted on roller bearings |
| Displacement | cc | 1,991 | 1,991 |
| Rated output | hp | 302 | 416 |
| at | rpm | 5,800 | 6,750 |
| Rated torque | lb-ft | 295 | 369 |
| at | rpm | 3,000-4,000 | 5,000-5,250 |
| Drive | | AMG® Performance 4MATIC® variable all-wheel drive | AMG® Performance 4MATIC®+ fully variable all-wheel drive with AMG® TORQUE CONTROL |
| Transmission | | AMG® SPEEDSHIFT® DCT 8G dual-clutch transmission | AMG® SPEEDSHIFT® DCT 8G dual-clutch transmission |
| Acceleration 0-60 mph | s | 4.8 (est.) | 4.0 (est.) |
| Top speed | mph | 155 | 167 |
# # #
About Mercedes Benz
Mercedes-Benz USA (MBUSA), headquartered in Atlanta, is responsible for the distribution, marketing and customer service for all Mercedes-Benz products in the United States. MBUSA offers drivers the most diverse lineup in the luxury segment with 15 model lines ranging from the sporty GLA SUV to the flagship S-Class and the Mercedes-AMG® GT Black Series. MBUSA is also responsible for Mercedes-Benz Vans in the U.S. More information on MBUSA and its products can be found at www.mbusa.com and www.mbvans.com.
Accredited journalists can visit our media site at www.media.mbusa.com.
1 To use the Mercedes me connect services, you must create a Mercedes me ID and accept the Terms of Use for the Mercedes me connect services. The services shown and their availability and functionalities depend in particular on the vehicle model, year of manufacture, selected special equipment and country.