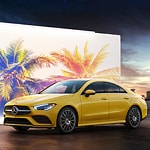 Mercedes-Benz has always been a brand that focuses on luxury and sophistication. This is evident in their latest model, the CLA. The interior is packed with features that will make your driving experience unforgettable. We wanted to take a closer look at some of the features that make this car so special.
-Seats: The CLA comes with comfortable and supportive seats that are upholstered in high-quality materials. You can choose from a variety of colors and textures to create the perfect look for your car.
-Dashboard: The dashboard is designed to be simple and elegant. All of the controls are within easy reach, and the gauges are clearly visible.
-Infotainment System: The infotainment system is one of the most advanced on the market. It includes a large touch screen, navigation, and a variety of other features.
-Safety Features: The CLA comes with a variety of standard safety features, including airbags and seatbelts.