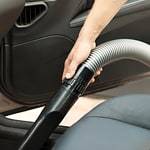 Pets may be your best furry friends, but they also can do a number on your car's cabin. Every time you bring your pet in the car or even if you have the fluffiest dog that gets hair all over your clothes, you'll likely start to find pet dander and hair clumps all over your car. There are a few things you can do to keep your car clean of pet hair.
If you have to travel with your pets, it's best to keep them in a carrier or cage. You can line these with their favorite blankets or even a towel. There are also gating systems that keep your dogs from climbing into the front seat while you drive.
In addition, you should get seat covers. Both cloth and leather seats tend to have problems with pets, so even if you only cover them when you transport your pets, it's a good idea to do so. Vinyl and leather seats can be punctured by claws. It's also important to brush and groom your pet before any car rides. At Mercedes-Benz of Fresno in Fresno, CA, we use a variety of cleaners and tools to ensure that your car is immaculate after detailing.